Box Hill Institute would like to acknowledge that this Friday, October 8th is Veterinary Nurses Appreciation Day.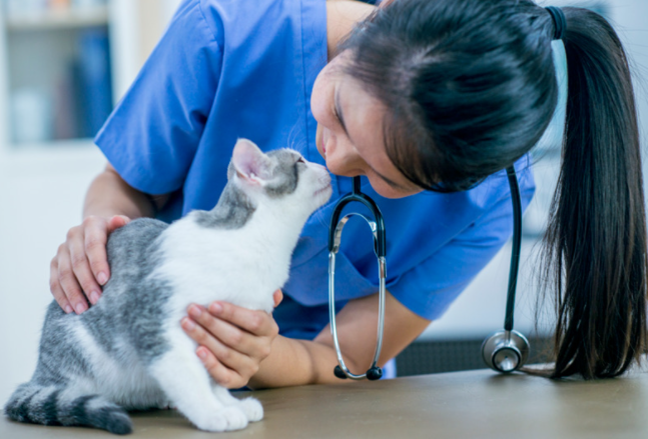 Veterinary nurses play a vital role in the care that our pets receive when accessing veterinary services. They are the first point of contact at the clinic, fielding enquiries and providing expert advice to concerned pet owners. At the clinic they assist with routine diagnostic assessments and procedures, such as blood tests and x-rays. They keep your pet comfortable; changing their bandages, administering medications and ensuring that they are fed and watered during hospital stays. During surgery, they provide assistance to the vet to ensure that everything goes smoothly. They provide post-operative care and monitoring to pets to support their recovery and their transition back home.
Whilst this can be a rewarding career, vets and veterinary nurses are subject to high levels of occupational stress and are highly susceptible to burnout, along with depression and anxiety. Sadly, vets and veterinary nurses are overrepresented in statistics of suicide. The physically and emotionally demanding nature of the work, the long hours, unrealistic expectations from clients and relatively low salary associated with the role may all be factors which contribute to this. Furthermore, disgruntled or grieving clients may take to social media to publicly chastise the vet or veterinary practice, misdirecting their anger that their animal could not be saved.
Organisations such as Love Your Pet, Love Your Vet and Flynn's Walk are striving to raise public awareness of the disproportionately high levels of suicide among these professionals; and to build community, psychological and educational support for those entering or working within this profession.
Box Hill Institute would like to acknowledge the talents, the courage and the dedication of those studying and working within the veterinary profession.
To all of our Veterinary Nursing students, teachers and staff within the Animal Sciences area – we acknowledge your wonderful contribution to BHI, to the animal services industry and to the health and happiness of our animal companions. We honour your commitment to improving the lives of our beloved pets and their owners.
Thank you for all that you do!
For support, please contact:
Student Life 9286 9891 or studentlife@boxhill.edu.au
Lifeline 131114
Beyond Blue 1300 22 4636