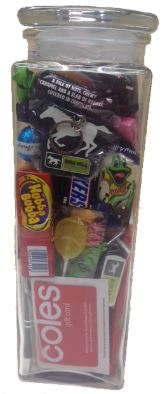 All you need to do is guess how many items are in the jar, and answer the question below! The system will record your name and StudentID.
The jar includes a $20 Coles voucher, BHI merchandise (USB, pens, keyring, etc.), lollies, chocolates and MORE!
THE FIRST STUDENT WHO GUESSES THE CORRECT NUMBER OF ITEMS IN THE JAR WILL WIN, SO DON'T MISS OUT!
Closes Thurs 25th May at 5 pm...
Video
How many items are in the jar?
The fine print:

A group of items is counted as one, e.g.: a box of Skittles is counted as one item.
If a student guesses more than once, only the first answer will be used.
The first student with exact or closest answer will win.