Raising Safety Incidents
Safety incidents can occur anytime around campus. By safety incidents, we mean:
Hazard —Any occurrence that has the potential to cause physical and/or psychological harm.
Near Miss — An incident that has occurred but no injures had occurred.
Injury — incident that had occurred that resulted in an injury.
Reporting safety incidents is a critical activity that helps make BHI a safer environment to study and work. Identifying things early allows us to all look after each other better.
Seen something you think is unsafe? Scan the QR code on one of the HSW posters around you with your mobile device OR click on this link.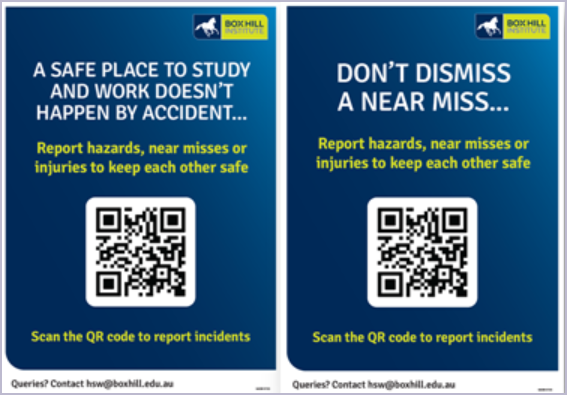 Fill in the mandatory fields (*) in the safety incident report that pops up and save. The safety incident will be raised and go to the right people for investigation and resolution.
For more information about how to use the HSW Incident Reporting system, refer to the following Quick Reference Guides:
If you would like to contact the Health, Safety and Wellbeing team, please email: HSW@boxhill.edu.au.
Last modified: Thursday, 28 September 2023, 3:24 PM