Campus maps and parking
Box Hill Campus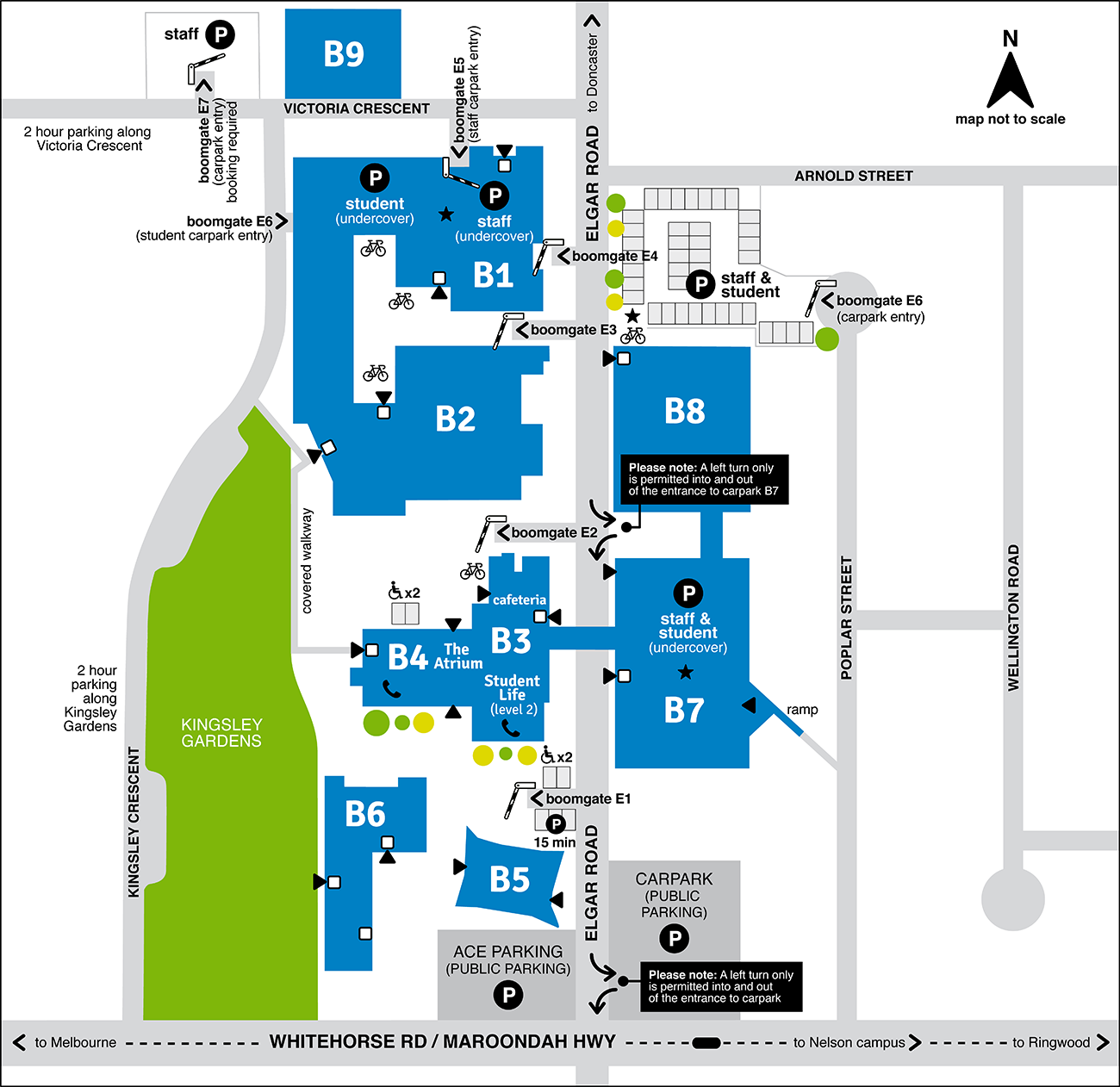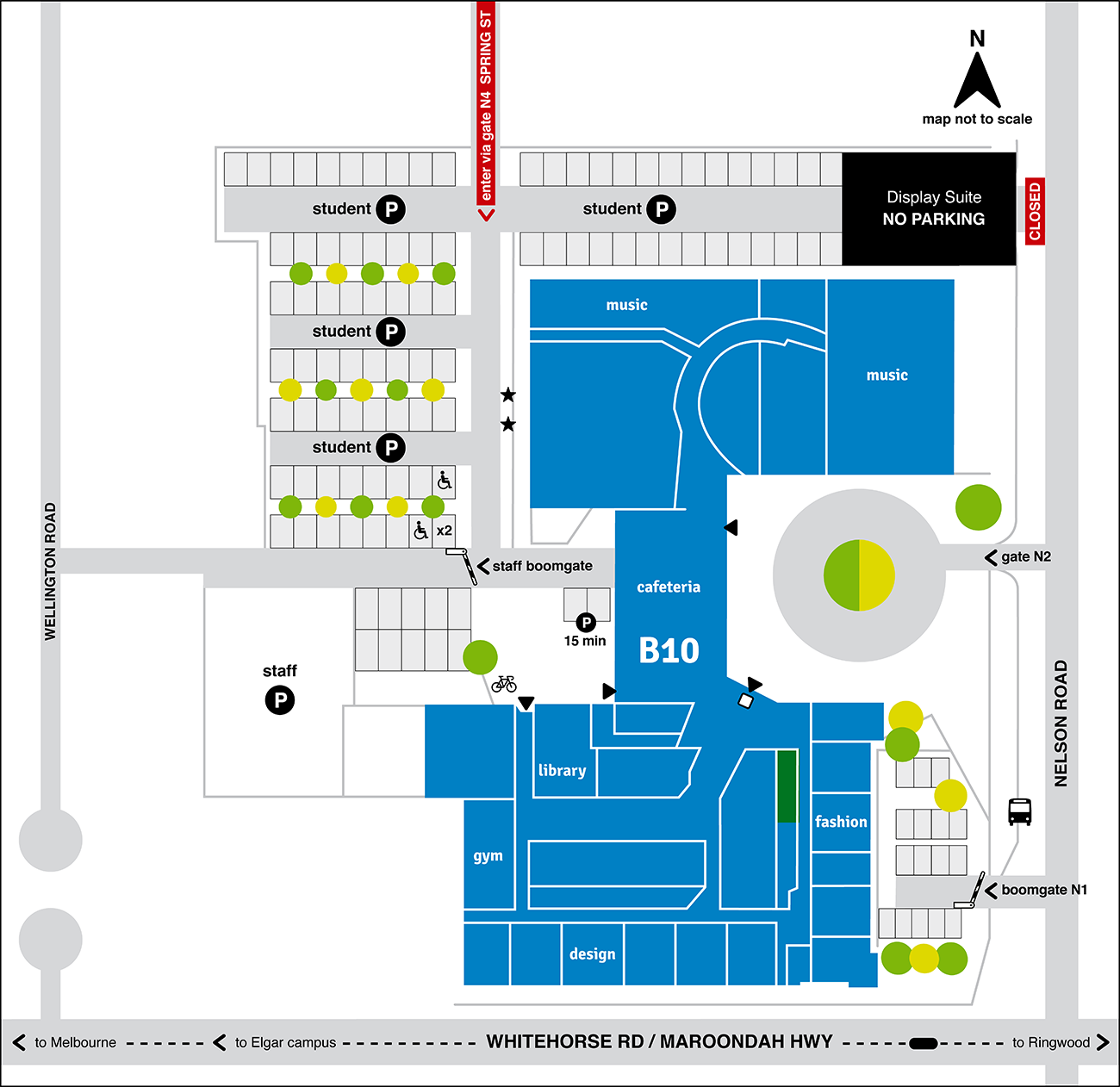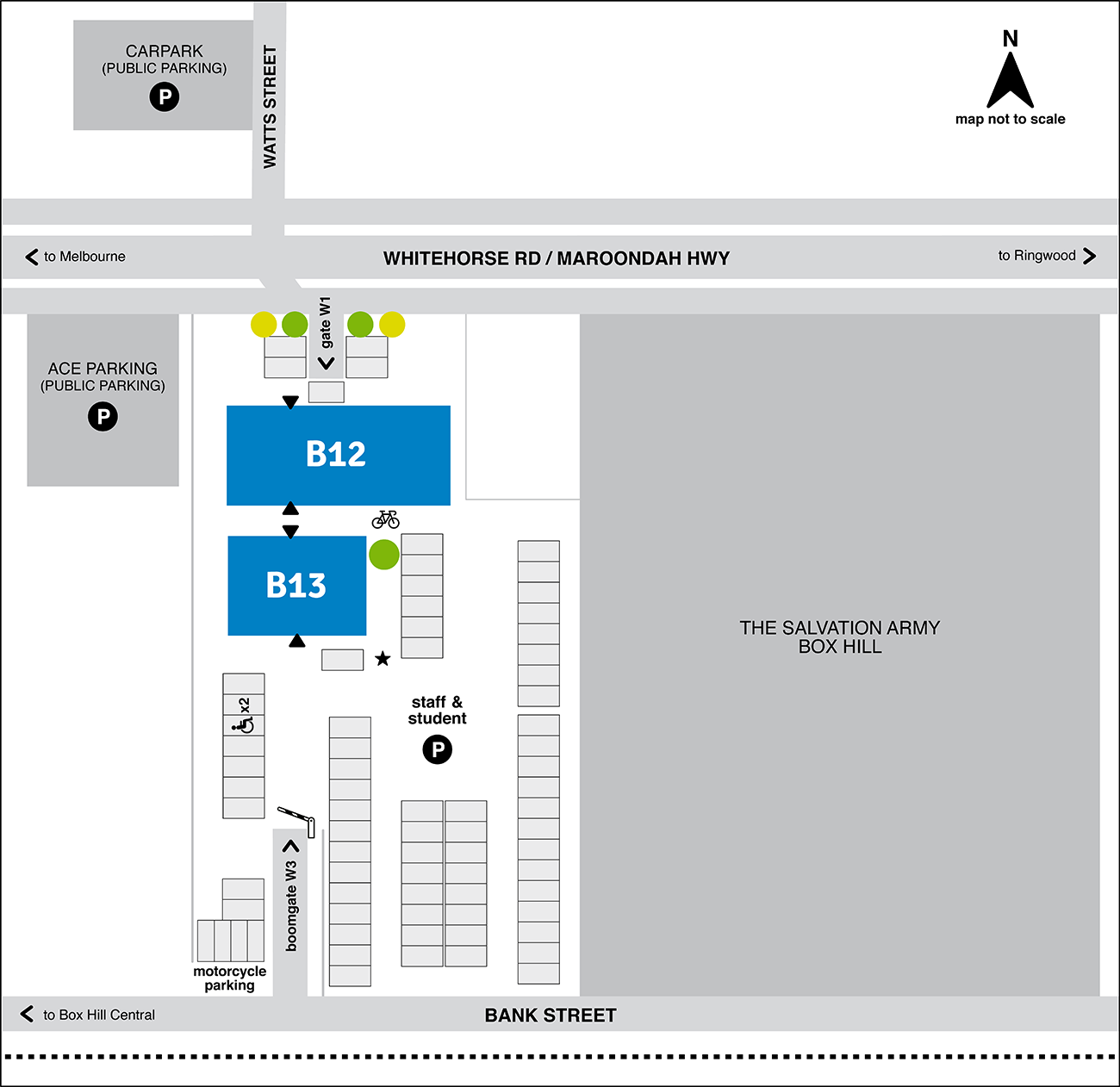 Parking
Alert:
A valid daily paid parking ticket from ticket machines onsite must be displayed on the dashboard of your vehicle OR payment must be made via the PayStay App, along with your BHI Student Permit. Failure to have both displayed will incur an Infringement Notice being issued. See the section More information for details on fines and appealing parking infringement notices.
Instructions: Select each heading for information about parking at the Box Hill campus.
Reveal venetian blinds
BHI parking permit




Parking Permits are $5.00 each and the sticker must be displayed on your windshield (bottom left hand corner).

Permits can be purchased from Student Admin E4 Ground Floor.


Daily parking costs $3.50. You can purchase a daily ticket from ticket machines onsite or alternatively use the PayStay app.

PayStay App

Online payments can be made via the website https://www.paystay.com.au.

Alternatively, you can download the app or call 1300 322 111 to purchase your parking.

Please note each parking area has a 'unique code' and is listed at each car park. You are only required to make a purchase with one of the codes below and this will cover you across all car parks even if you need to move your vehicle to a different car park.

31280006 Whitehorse campus
31280005 Nelson campus
31280004 Elgar campus under building 1 & 2
31280003 Elgar campus outdoor car park near building 7
31280002 Elgar campus building 8

Parking meters and coin machines

Parking meters

These will be available to purchase tickets.
The parking meters will be cleaned and sanitised during the day but please sanitise/clean your hands after using the parking meter.

Coin machines under Building 1 and 2

Please note that the coin machine located under building 1 & 2 can sometimes be faulty. Use of this is at your own risk. BHI is not responsible for any loss of money due to the faulty machine.

Elgar Parking





Parking in and around the Elgar campus is limited however Box Hill is well serviced by public transport including trams, trains and buses. Elgar Campus is approximately 10 minutes walk from Box Hill Station.

Parking at Elgar Campus is restricted to permit holders only except for the 450 Elgar Rd Car park.

Parking options are:

Parking is available at gate E6 (access via Kingsley Crescent). Tickets can be purchase at the ticket machines for $3.50.
Short-term parking (15 minutes) is available at Boomgate E1
There are 110 parking spaces available under Building E8. Access is from Elgar Rd (left turn entry and exit only).
Car Park corner Elgar Road & Arnold Street 120 spaces, entry via Poplar Street.
Two-hour parking is available along Victoria Crescent, Kingsley Crescent and Whitehorse Road as indicated (subject to change without notice)
66 spaces are available at 450 Elgar Road (corner of Whitehorse Road – left turn entry and exit only). Tickets can be purchased at the ticket machine for $2.50 per hour for up to 4 hours or a maximum of $9 per day. (Credit Card only). This is the only car park that does not require a permit
Ace Parking is available on the corner of Elgar and Whitehorse Road. Standard rates apply.

Nelson Campus

Nelson campus parking is available for students and visitors. Tickets can be purchased for $3.50 at the ticket machine for permit holders only (Credit Card / Paypass Only). Disabled parking is also available.

Paid parking is also available at Ace Parking, 990 Whitehorse Road Box Hill (under the Tax Office building). Standard rates apply.

Whitehorse campus

Parking at our Whitehorse Campus is a great alternative if you are unable to find parking at our Nelson Campus. To access the boomgate the code is: 03128# - which you can access via Bank Street

Please note that you will require to have a BHI Parking Permit (which can be obtained from Student Admin in Building E4, Ground Level); as well as a daily ticket ($3.50 per day) which can be purchased from ticket machines onsite or by using the PayStay App.

Fountains Restaurant

Fountains Restaurant car park is accessed via gate E7 on Victoria Crescent and is for restaurant patrons only. When making a reservation please ask for allocated car parking. You can reach the restaurant on 9286 9278.

---
CAE City Campus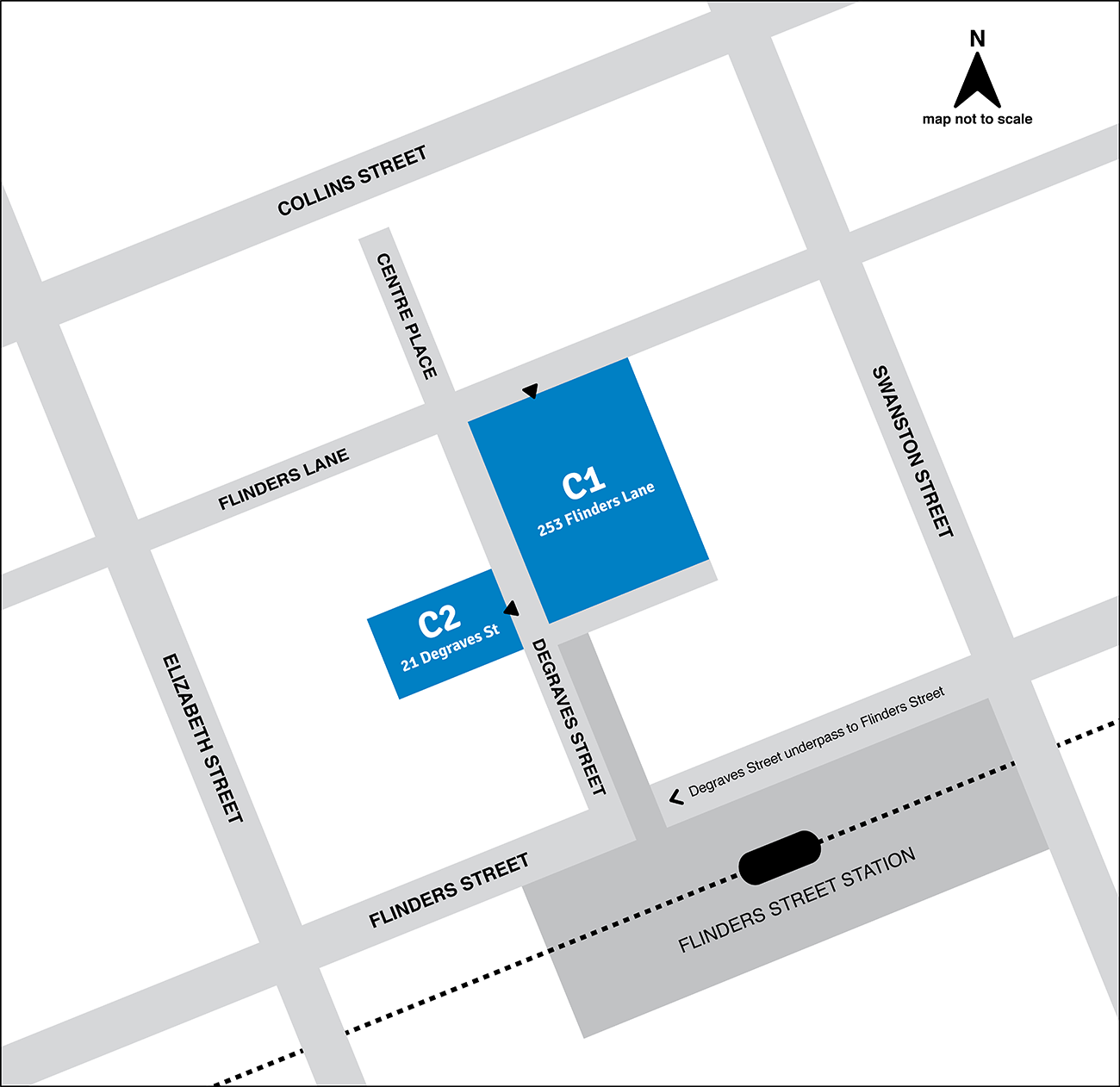 Parking
Car parking is available at nearby Wilson, Secure Parking and Melbourne City Council car parks. Standard rates apply.
---
Lilydale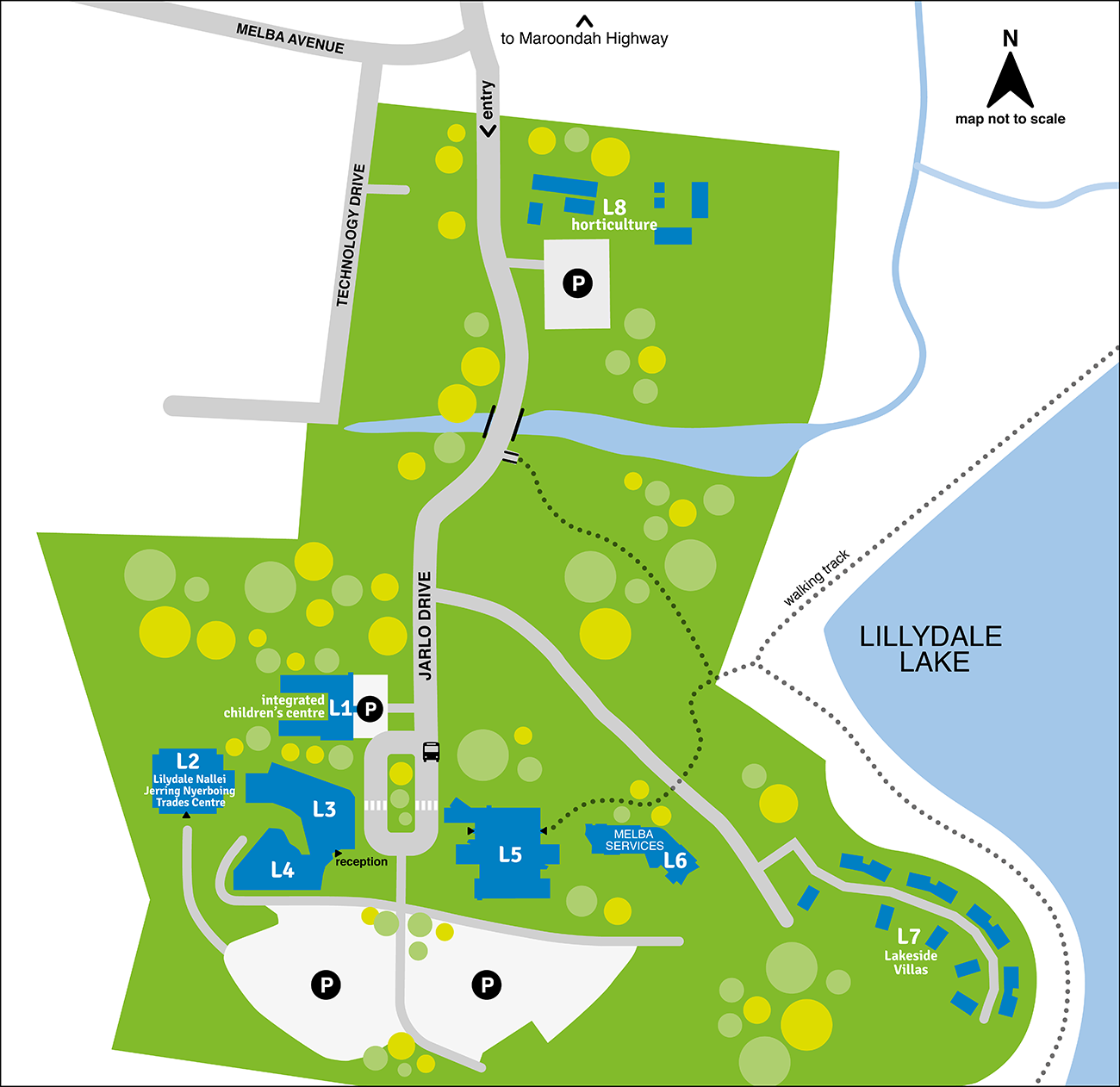 Parking
Limited onsite car parking is available. Additional parking is available at nearby shopping centres. No parking costs apply at the Lilydale Lakeside Campus.
---
Finding Rooms
Finding your room is pretty easy once you know how to read the signs. The letter on a room sign represents the name of the campus you are on. The number next to the letter represents the building number. The room number is given after the dot. The first number of the room number denotes the floor of the building. The other numbers are the actual room.
Example
For example, E2.G52 is room 52, the ground floor, building 2 on Elgar campus.
---
More information
Instructions: Select each heading for more information.
Reveal venetian blinds
Fines

Failure to organise and display a BHI car parking permit (for the current year) and pay the daily parking fees will incur a fine.

Parking infringements will also be issued if you are parking in "no standing zones" and on street curbs.

Parking Infringements

If you intend to appeal the parking infringement please follow the directions on the rear of the infringement notice and address all correspondence to:

Box Hill Institute
GPO Box 425
Melbourne VIC 3001

You should also attach a copy of all evidence such as valid BHI parking permit, daily ticket (from ticket machine or a screenshot from the PayStay app), and infringement notice for the date in dispute; along with your best contact details (Name, Address, Rego, Phone Number, Email). Reversal requests will not be considered if it is submitted after the due date and overdue fees may be added to the infringement costs.

When the review process has been finalised you will be advised of the outcome in writing. If your appeal is unsuccessful, the only remaining options are to pay the infringement fine or to elect to take the matter to court.

Should you have any questions regarding parking access, please contact your Student Coordinator.

Disabled parking

Disabled car parks are located at every campus and are available for use by those displaying the appropriate disabled parking permit.
Last modified: Thursday, 10 February 2022, 5:15 PM